Whether you are a seasoned Pop! collector with many a grail sitting on your shelf or if you have just started your collection, we are sure that this question has crossed your mind from time to time: "What are the rarest Funko Pop!s ever made?"
Well, read on if you want to find out! In this article we will cover the top 10 most expensive Funko Pops!
10) Count Chocula Freddy Funko, Metallic
First released all the way back in 2011 at San Diego Comic Con, Count Chocula now sells for around £3.7k – and with his metallic finish and impeccable detail it's not hard to see why!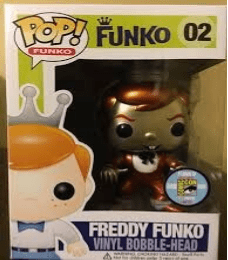 9) Ken Griffey Jr, Bronze
Also known as "Junior" or "The Kid", Ken Griffey Jr was an outstanding Baseball player from 1989 and ended his prolific 21-year career in 2010 with the Seattle Mariners.
Selling now for around £3.8k, this 2018 Pop is in high demand in the Funko community.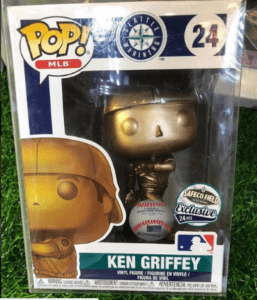 8) Giant Freddy Funko as Buzz Lightyear, Metallic
From the immensely popular Toy Story franchise comes Giant Freddy Funko as Buzz Lightyear.
Released back in 2013 he is now selling for around £4k!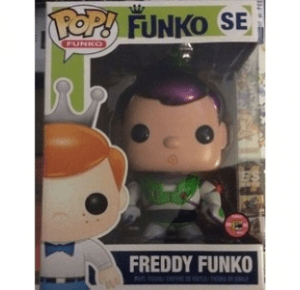 7) Freddy Funko as Buzz Lightyear, Glow In The Dark
Another from the Toy Story franchise, Buzz was made back in 2011 as a glow in the dark Funko Pop! Vinyl.
Now selling for around £5k in the Funko community.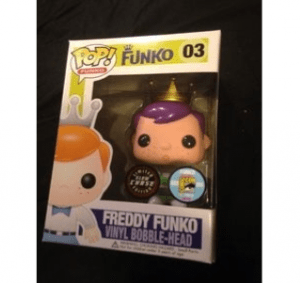 6) Freddy Funko as Venom
Coming in at number 6 is the ever so popular Freddy Funko as Venom.
Venom has been adapted across many different franchises and characters since his release, but Freddy Funko has to be our ultimate favourite.
Now selling for around £5.1k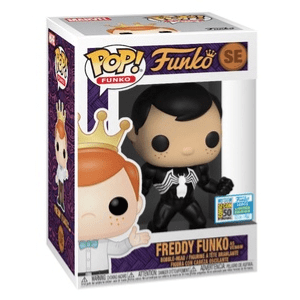 5) Frankenberry Freddy, Glow In The Dark
Released back in 2011, Frankenberry proved very popular In The Funko Community!
Selling at around £5.6k he has out 5th place spot.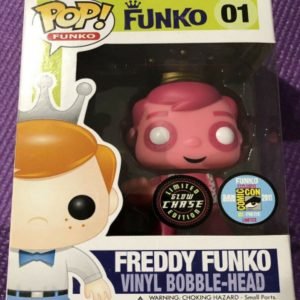 4) Dumbo (Clown)
All the way back in 1942 Disney introduced us all to a lovable little elephant called Dumbo. He was Given the Pop treatment in 2013 and was an instant hit!
Now selling for £7.4k, those magical ears must be worth something!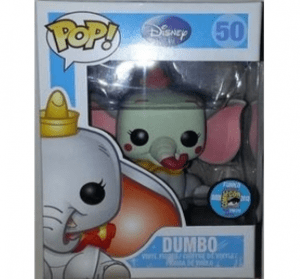 3) Jaime Lannister Bloody Freddy
All the way from Westeros and from the cult TV series Game Of Thrones, Freddy took on the role of Jamie Lannister back in 2013.
He is now selling for a whopping £9.3k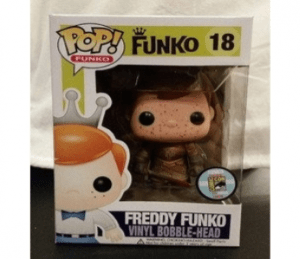 2) Count Chocula Freddy, Glow In The Dark
Just missing out on our top spot we have Count Chocula Freddy, Glow In The Dark version.
Valued at £10k, this Funko Pop! was an instant hit in the Funko community and is still sought after 9 years on.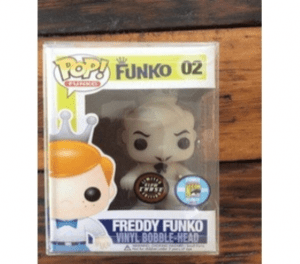 1)Clockwork Orange Alex DeLarge, Glow In The Dark
And at the very top of our chart, all the way up number 1 we have… *drumroll please*
Alex DeLarge Glow In The Dark Funko Pop! Vinyl!
The main character of the famous Stanley Kubrick dystopian crime film released in 1971 (based on the famous Anthony Burgess novel written in 1962) looks amazing in Funko Pop! form, and really conveys the ultra-violence vibes he is known worldwide for.
The Glow In The Dark Alex DeLarge Funko Pop! Vinyl launched in 2012 and has ever since been phenomenally popular within geek culture. It  now sells for £13k.