Pop In A Box is the perfect place for any Pop! Vinyl collector looking for a way to expand their collection at a great price!
So… How does a Pop in a Box subscription work? The Pop in a Box subscription allows you to select a plan to receive the amount of Pops that suits you best and have them delivered them straight to your door every month.
What will I get with my Pop! subscription?
The plans range from 1 to 12 Pop! Vinyl figures a month and the plan can be narrowed down to specific genres and groups of Pop! you collect.
The Classic subscription allows you to collect ALL groups of Pop! Vinyl that are released but if that's not your preference do not worry and keep on reading!
You can choose to commit to a specific franchise such as Marvel, Disney, Heros, Sport, Animation and more!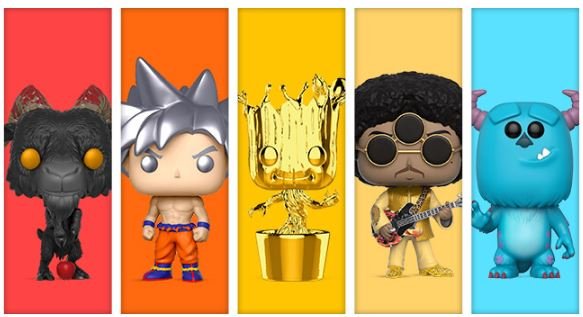 How does The Pop! Tracker work?
As part of our subscription service, you get your own Pop! Tracker! – what is it and how does it work, you might be wondering?
Our unique Pop! Tracker service allows you to select exactly what Pop! Vinyl you absolutely would like in your subscription and which you absolutely don't want.
To add Pop!s to your Pop! Tracker, you just need to mark them with the thumb up if you would like to receive them, thumb down if you don't want them or with the trophy if you already have them in your collection.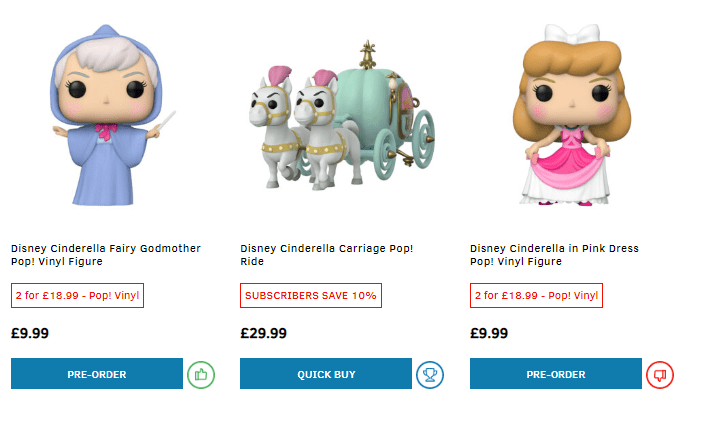 With the Pop! Tracker, you can either go through the Pops! On-site in their respective list pages and thumb them up and down individually, or you can scroll down on your "My Account" page and thumbs up/down entire Pop! Categories!
If you do so, remember that you can still thumb up (or mark with the trophy) a Pop! in a thumbed down category, or thumb down (or mark with the trophy) a Pop!
It's not necessary to add to your Pop! Tracker the Pop!s that you receive every month,  however, you do need to add to your Pop! Tracker Pop!s which you purchase separately on-site (which you will have with 10% discount as a subscriber, yay!)
WARNING: With the Pop! Tracker, you must create your account and create your wishlist before selecting your plan of choice.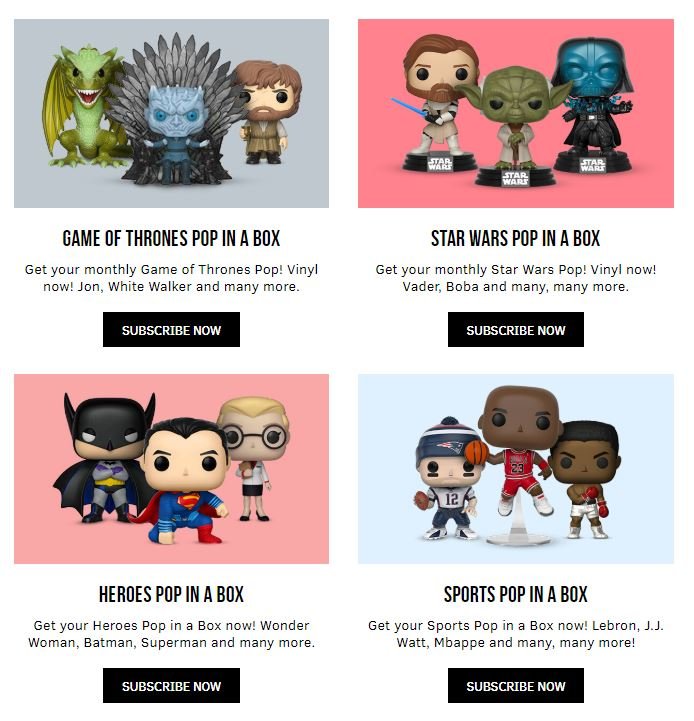 What  Perks do I get with my Pop! Subscription?
When subscribing to Pop In A Box you entitle yourself to VIP Status.
This allows you to access our VIP hub on-site featuring The Secret Shop full of exclusive and rare Pop! Vinyl itching to be a part of your collection!
This can take up to 72 hours to be applied but once it does, you can reap the rewards that come with it.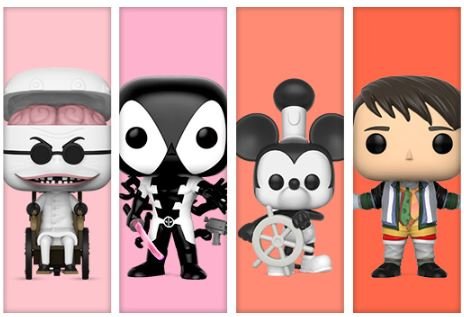 When Will I Be Charged?
We will charge you on the date in which you bought your subscription. So iff you were to purchase a Classic Pop In A Box Subscription on the 2nd of January, you would be charged on the 2nd of every month while you are subscribed.
In What Circumstance Will I Not Be Charged The Full Amount?
This will be because we couldn't fulfil the needs of your subscription! We would've gone through your wishlist or neutral list and we may not have the stock in to fulfill it. Alternatively, you may have selected Pops! That are in pre-order and have not been released yet.
What If I Would Like to Change/Upgrade My Subscription? 
Unfortunately, this wouldn't be possible straight away. You would have to cancel your subscription and subscribe again to receive your desired amount of Pops!
Get your Pop In a Box subscription today!